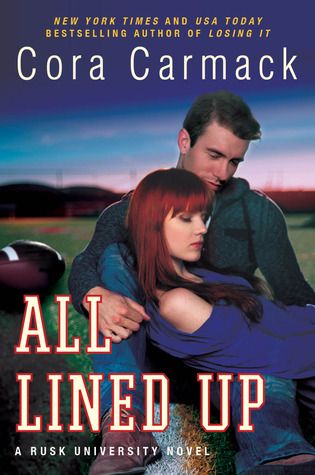 (Click image to take you to Goodreads)
Format: Kindle
Publishers:
William Morrow Paperbacks
Published: 16th September 2014
Pages: 320
Genre: New Adult, Contemporary Romance
Main Characters: Dallas, Carson
Date Read:
20th July - 3rd August 2014
Rating Given
:

Synopsis:


New York Times

and

USA Today

bestselling author Cora Carmack follows up her trio of hits—Losing It, Faking It, and Finding It—with this thrilling first novel in an explosive series bursting with the Texas flavor, edge, and steamy romance of Friday Night Lights.


In Texas, two things are cherished above all else—football and gossip. My life has always been ruled by both.


Dallas Cole loathes football. That's what happens when you spend your whole childhood coming in second to a sport. College is her time to step out of the bleachers, and put the playing field (and the players) in her past.




But life doesn't always go as planned. As if going to the same college as her football star ex wasn't bad enough, her father, a Texas high school coaching phenom, has decided to make the jump to college ball… as the new head coach at Rusk University. Dallas finds herself in the shadows of her father and football all over again.




Carson McClain is determined to go from second-string quarterback to the starting line-up. He needs the scholarship and the future that football provides. But when a beautiful redhead literally falls into his life, his focus is more than tested. It's obliterated.




Dallas doesn't know Carson is on the team. Carson doesn't know that Dallas is his new coach's daughter.




And neither of them know how to walk away from the attraction they feel.
"I don't know that dancing fixes anything. I don't feel magically happy because of it. My problems don't disappear when the music ends. But I understand life better when I dance, and understanding is half the fight of surviving."
I had only ever read one of Cora's books before reading this one but I enjoyed it so much that every book she brings out I try and get my grubby hands on it and this one was no different. I'm glad I did get this book as I loved it...
I do feel as though the cover is a little bit cheesy but I can imagine the couple on the front cover is Carson and Dallas. I do like the font used for the title as it reminds me sport which is heavily involved in this story.
I can't believe I forgot to do a review for this book (but in my defence I thought I already had) and that it took me so long to read it as there was nothing wrong with this book and as a matter of fact I loved it. From the very beginning I felt strongly invested in the story as I was completely hooked and just wanted everything to turn out the way I felt like it needed to end. Even though there was an instant attraction between the two main characters it still felt like it was longer before they felt anything more than lust for one another even if it wasn't as long as what I had initially thought. The chemistry between these two characters definitely felt like it jumped out of the pages even when they wouldn't admit to their feelings I felt like us the reader knew better. For some strange reason I love books that are sport related as I can't stand to watch most sports but it doesn't seem to matter when reading about the sports. I think the reason why I love the sports related books is because I feel like I can feel their passion in what they want to do and it adds another dimension to the book. All Lined Up isn't just about sport and romance but also about the relationship between father and daughter as well as pressure you get from family and team mates. What I really enjoyed about this book is that it made me laugh out loud but there was also some really heartbreaking parts as well which sure kept me on my toes. I loved the ending as it felt like a lot of things was cleared up but not everything was perfect which makes me want to see if we find out more about hose in the up and coming books even if they are from different characters perspectives I'm sure we will still see more from Carson or least hear about him.
I loved the two main characters as well as some of the side characters but there was a couple that I couldn't warm up to main one being Levi not sure I even want him to get his own book. I loved Dallas's character as even though on the outside she seems fine but the more we find out about here everything is far from fine with her making her a more real character. Carson I absolutely adored he was so sweet as I am used to the male characters in New Adult books being the bad guy but he is far from a bad boy but I love him all the same. There was a couple of characters that I wasn't too sure about but then by the end they really grew on me which I'm pleased about as one of those characters was Silas and his book is next!
Overall another hit from Cora Carmack and now I need to read some more of her books and I hope that is sooner rather than later.
"Carson McClain, you scare me like nothing has ever scared me before. You drive me crazy and make me laugh and push my buttons on purpose. You make me feel safe and smart and pretty. Sometimes I think I might actually melt when you wrap your arms around me, and right now I feel a little bit like I might die if you don't kiss me."